A "double whammy" of rising oil prices and sterling weakness saw the consumer price inflation rise to 1.8% in January, its highest level since June 2014, but still well within the Bank of England's Monetary Policy Committee's 2% target.
The jury is still out and the post-Brexit currency shock may prove only to have a transitory impact on inflation, but retail sales fell 0.3 % month-on-month in January, following a drop of 2.1 % in December, so consumers are already beginning to feel the squeeze.
However (at the time of writing), the "Trump trade" optimism still continues for global equity markets. Sterling weakness post-Brexit has been a real tailwind for globally diversified UK based investors and these recent inflation numbers are not likely to trigger any immediate action by the MPC in raising interest rates anytime soon.
So no respite for savers from the financial repression on the horizon who are looking for income. Ditto re annuity rates.
Is a diversified portfolio of assets instead a better bet when inflationary pressures rise and if so, what type? If you look back since launch of the Dynamic Planner model, we share some interesting results.
The annual calendar year CPI figures were as follows:
| | | | | | | | | | | | |
| --- | --- | --- | --- | --- | --- | --- | --- | --- | --- | --- | --- |
| | 2006 | 2007 | 2008 | 2009 | 2010 | 2011 | 2012 | 2013 | 2014 | 2015 | 2016 |
| UK Consumer Price Index % | 2.99 | 2.08 | 3.05 | 2.89 | 3.70 | 4.20 | 2.68 | 2.03 | 0.55 | 0.20 | 1.08 |
Let's consider an objective of regular withdrawals equal of 2% pa above inflation and also preservation of the remaining capital over the longer term.
Clearly cash would not have stood any chance over any period and the only option would have been to embrace risk in some form.
Taking a look back, with this twin objective in mind, Dynamic Planner Risk Profile 3 would have provided the most consistent set out outcomes, compared across all 10 profiles.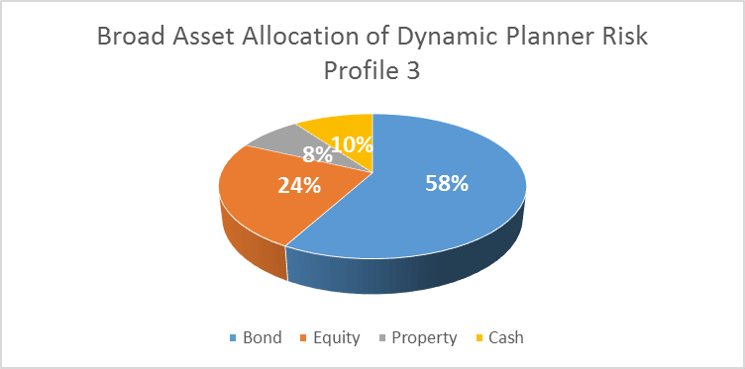 The example shows the remaining capital for a £100,000 investment after for allowing for an annual withdrawal rate equal to the realised CPI index + 2% over each respective year.
The data takes account of typical fund related OCF's, any changes to the strategic asset allocations and assumes monthly portfolio re-balancing.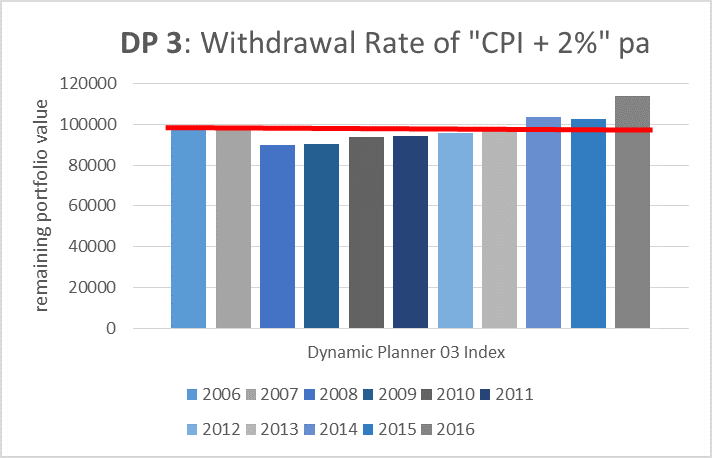 However it goes without saying that past performance is no guide to the future and we know that in some cases global bond yields have been driven to generational lows, thanks to the unprecedented scale of monetary stimulus measures post the Great Financial Crash (GFC).
So let's take a look at Dynamic Planner risk profile 4 instead, where there is a closer mix between bonds & equity exposures.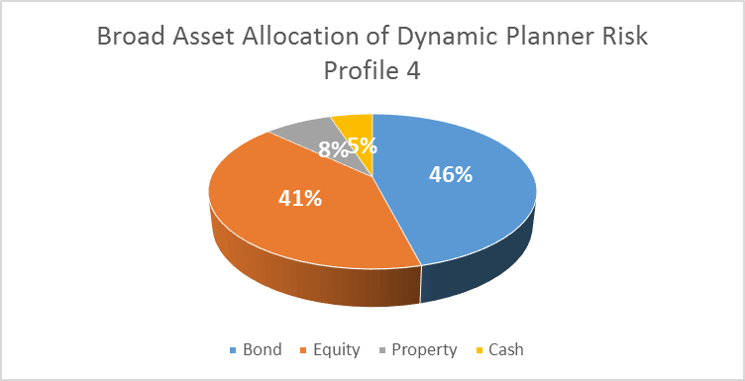 Here again, we can see the trend of strong recovery more recently, but the higher equity exposure struggled post the GFC and there has been greater variability in the underlying capital values as a result.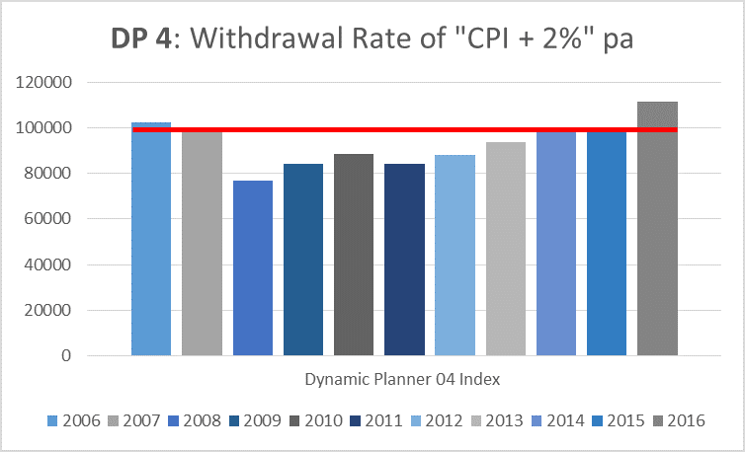 The take away from all this?
....is the need for prudence when considering regular withdrawal strategies but that embracing risk via a diversified multi-asset portfolio has proven the right approach. Some clients are of course more tolerant of capital value fluctuations than others and psychometric risk profiling tools can help provide guidance here. However it's the "journey" rather than the "end destination" that is key for delivering sustainable outcomes during the capital decumulation phase.