2016 witnessed quite an unusual turn of events, to say the least, and due to the benefits of diversification, the Dynamic Planner allocations weathered them pretty well. However what might surprise you is that Risk profile 3 suffered a larger percentage drawdown relative to the higher risk allocations 4 and 5 over the year. The UK gilt market has been battling on a number of fronts post-Brexit with concerns over rising inflationary pressures and sterling weakness to name just a few and this alongside the pain suffered by UK commercial property has no doubt have been the major causal factors.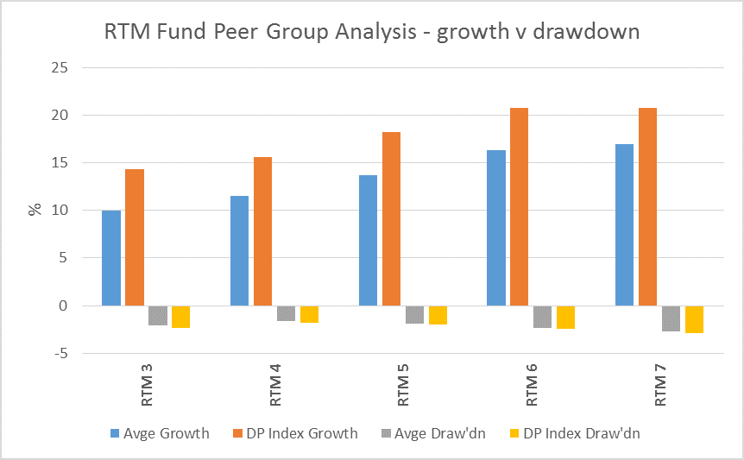 Source: Lipper/DT 12 months to 31/12/16. Past performance is no guide to future performance.
Also we have seen the RTM managers successfully managing the drawdown compared to the Dynamic Planner indices.
Here we talk to two RTM managers who have been most successful in providing this level of downside protection for their lower risk portfolios.
According to Paul Green, Investment Manager of the F&C MM Team: "whether in reaction to specific events or in response to the normal economic cycle, markets experience challenging periods of performance from time to time. We view navigating such episodes as an important part of long-term investment success. Our bias towards active managers (currently around 75%) plays a big role here. Many of the managers we select are keenly focused on valuation meaning that when sharp falls do occur, their positions tend to be better insulated than more 'over-valued' parts of the market. Being properly diversified also matters. Many indices are heavily biased towards certain stocks and sectors - something we seek to counter by having investments properly spread across different areas of the market, including right across the capitalisation scale.
We have long been aware of some of the challenges facing certain parts of the fixed income market. As well as adopting tactical underweights in areas like UK Gilts and UK Corporate Bonds we have positioned the portfolios to be less sensitive to movements in interest rates (underweight 'duration'). This stance has protected capital as yields have risen over the last 12 months."
David Marchant, CIO Canada Life UK, says: "active management in the underlying funds plays a crucial role in how the Portfolio Funds are run. An example of this can be seen in the underlying fixed income positions within our Portfolio Funds range. Our fixed income allocations, which utilise the in-house expertise at Canada Life Investments, follow our short duration house view. This positioning has helped to mitigate downside risks as a result of rising government bond yields in many developed markets in recent months. Our property allocation also helps to dampen volatility, with the underlying property portfolio still identifying robust pockets of the UK market – away from the uncertain City of London."

Knowledge Base
Duration is an approximate measure of a bond's price sensitivity to changes in interest rates. If a bond has a duration of 6 years, for example, its price will rise about 6% if its yield drops by a percentage point (100 basis points), and its price will fall by about 6% if its yield rises by that amount.
Views and opinions have been arrived at by BMO Global Asset Management and Canada Life Investments should not be considered to be a recommendation or solicitation to buy or sell any products that may be mentioned.