March 2016
By Jason Dewar, Senior Consultant.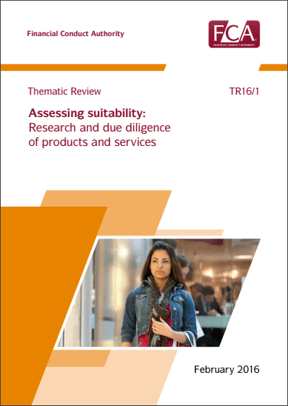 The FCA's 2 year thematic review of the research and due diligence processes carried out by advisory firms culminated in the publication of TR16/1. It is 6 pages long, and will take approximately 15 mins to digest! Considering the first 2 pages cover 'background' and 'what is research?' the accusation that this report is lightweight seems justified.
However, I read this report and my immediate reaction was that there probably wasn't much to criticize. The first line of the Key findings states 'In the main, we found that firms sought to achieve positive outcomes for their clients when undertaking research and due diligence, and general firms demonstrated some good practice in this area'. An adviser's reputation is hard won and easily lost. Tesco online are highly unlikely to fill your basket with poor products because 5 minutes after delivery every neighbour, colleague, and Facebook friend will have been told never to use Tesco again, so why wouldn't advisers take the same care with the products they recommend?
Despite its brevity, the report still makes some good observations;
Those firms that have a culture of demonstrating research and due diligence as a central function of the advice process clearly showed that they had their customers' best interest at heart and put this into practice.
Where there was no culture of challenge within the firm the research and due diligence process showed weaknesses.
Firms inadequately managed conflicts of interest between their clients' interests and their own. An example of this was given as choosing 'service level' as factor when selecting platforms.
Other observations were made, but the area singled out for the highest criticism was Platform research. Phrases such as "status quo bias" and "if it ain't broke don't fix it" were used to highlight the inconsistent and insufficient research in their selection. It is easy to see why this would be the case. Having taken the time to research, configure, train staff, and embed a platform into a business it is understandable that a firm would be reluctant to change. After all, a platform is not a product. It is not selected as easily as a bond or pension wrapper which may be used for only one or two transactions. A platform is essentially an administration system on steroids. It facilitates transactions through a number of wrappers, but also records and reports on clients' portfolios, as well as providing them with online access to valuations and transaction history (always a comfort to clients who want to see where their money is going) as well as other valuable tool to help clients manage their finances. The issue of platform charges and who should pay them can be debated separately, but there is no denying that there is growing pressure for advisers to demonstrate exactly what the client gets for their 35bps!
The FCA do understand this, however I think that the documentation supplied by advisers in support of platform selection is poor. Perhaps the reason the FCA picked on platforms is because they have previously provided clear direction to advisers in the form of Factsheet 012, Platforms: using fund supermarkets and wraps, which does outline quite succinctly what advisers should consider when adopting and using Platforms.
As part of our consultancy services to advisers, DT can provide due diligence reports on platforms and DFMs. This is just one part of the process. Advisers will need to establish robust and repeatable research criteria so that they can demonstrate that they have considered all factors important to their business and their clients.
Client Segmentation. Do you clients need to be segmented into groups and how will this affect the choice of platform for each client segment? Which platform features are important to each client segment?
Platform adoption. What are the implications for the business and is clients of the introduction of a new platform?
Conflicts of Interest. Why are you adopting a platform and for whose benefit? Is it really in your clients' interest to use a platform?
Asset allocation and fund selection. Does the platform provide access to the range of assets or funds that you wish to recommend? Can you manage your clients' portfolios according to the level of service agreed with the client?
Platform monitoring. Is the platform financially secure? Does it offer the range of products and services that your clients require? Is the cost to the customer competitive?
Being told to do something, but not being told how to do it can be hugely frustrating. Distribution Technology have been supporting advisers and ensuring investment suitability for over a decade. We can also help your business with Platform and Discretionary fund Manager due diligence, or by providing consultancy support to your own Investment Governance Committee.
Please contact jasondewar@dynamicplanner.com for further information.