The Investment Committee (IC) reviewed the latest capital market assumptions and where each of the asset allocations are positioned within their volatility boundaries.

The key theme discussed at the Investment Committee (IC) Q2 meeting was the continuing challenge of volatility compression across all the asset classes and how this is feeding through to the Dynamic Planner allocations. The volatility seen in global equity markets continues to be at historic low levels and bond markets are still key beneficiaries of the accommodative central bank policies. This combination of forces has meant sterling based investors with a diversified portfolio of equities, bonds and alternative assets such as commercial property have been a sweet spot by virtue of enjoying attractive real returns but with lowering volatility.

A central core to the success of the Dynamic Planner approach is to retain a set of diversified portfolios and risk boundaries that are able to adjust long term strategic drivers in markets. Given the latest data Q2 forecasts the IC agreed that no changes to the Dynamic Planner asset allocations were necessary, thereby avoiding the temptation of increasing portfolio risk levels at potentially the wrong time. The latest set of assumptions is scheduled to be uploaded into Dynamic Planner on 12th June.

The following chart demonstrates the annualised volatility levels observed across each of Dynamic Planner's asset allocations since launch to end of March 2017.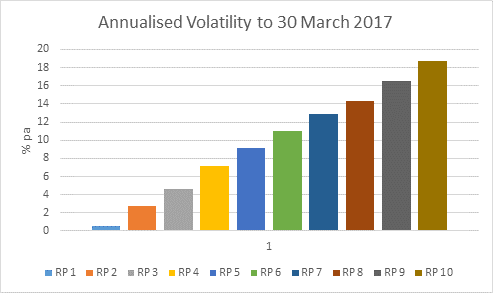 So as we move into the early Summer, there will be plenty of time for markets to absorb the ramifications of what impact the Trump corporation tax cutting plans (if delivered) might have on the outlook for the US economy & its fiscal deficit, the US dollar and whether the Federal Reserve will sanction further interest rate hikes. In Europe, the ECB continues to maintain its "do what it takes" stance to restore financial stability, whilst elections in Italy must be held before January 2018, (where four out of five parties are anti-Euro)…not to mention the UK snap-election in June plus ongoing Brexit negotiations.

The next IC meeting in the end of July sets the annual asset allocation review changes for Dynamic Planner and over the coming months we will be considering a number of options to ensure that the model continues to deliver a coherent set of risk/reward outcomes.


DT Asset & Risk Modelling Team
May 2017