It's been just over a year since we launched our Risk Target Managed Service and perhaps now would be a good time to starting looking into how these specialist multi-asset fund solution funds have been faring.
Before we do, it's worthwhile briefly reflecting on what the key market challenges have been since the RTM launch in March 2015.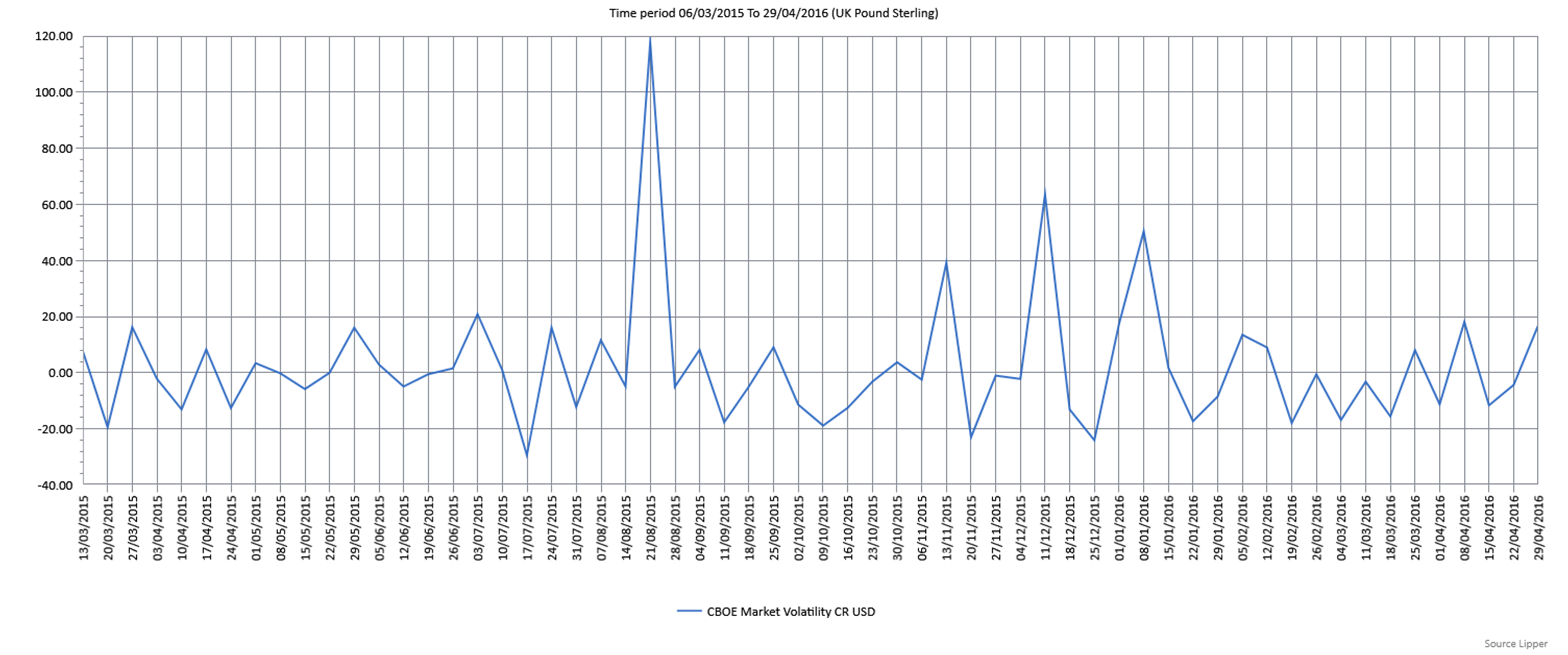 The above chart shows experienced equity market volatility (as measured by a daily representative index change) since we launched the RTM service.
What is pretty evident are the periods of elevated amongst those of generally subdued volatility levels:
On Wednesday 8 July, the Shanghai Composite, fell as much as 8%, with reverberations felt globally leading some analysts to call the trading day "Black Wednesday"
We had the anticipation and then reality of the first interest rate rise since 2006 by the Fed in December
And let's not forget how we saw plummeting oil prices and global recessionary fears create stock market mayhem with a very painful sell off in early January 2016.
All mainstream investment strategies, including risk targeted varieties that incorporate volatility predictions as a key part of their active risk management have had a challenging time. This is because historic market data clearly shows that equity returns are consistently higher than average in periods of low volatility whilst on the other hand, high volatility periods tend to have negative average returns.
Past Performance Look Back
However what is reassuring is that the observed data for those funds in the Dynamic Planner RTM service has been coherent from a risk perspective during these challenging market conditions.
The following chart shows for each of the Dynamic Planner risk profiles, the average experienced volatility (using annualised monthly standard deviation calculations) and also the maximum drawdown data across the respective RTM peer group of funds.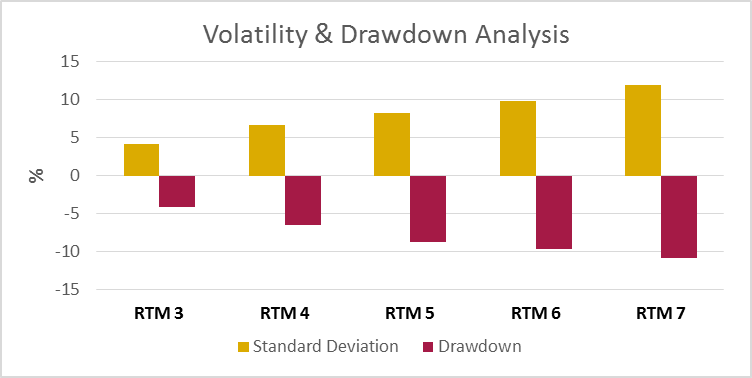 Please note that past performance is no guide to future performance. Source Lipper to 30/4/2016
With the Brexit vote on 24th June just weeks away and persisting fears about global growth prospects what we can be sure of is plenty of news flow for all multi-asset managers to keep a close eye on!
You can find more research detail about the RTM range of fund solutions by going back to the RTM Funds Forum section of this month's newsletter.
DT Asset & Risk Modelling Team
May 2016