A survey in 2015 of over 600 advisers by Vision Business Advisers highlighted that the average age of a UK financial adviser was 58. Perhaps unsurprisingly, this is mirrored in the average age of their clients. Looking at data from the Q2 2016 Dynamic Planner Intelligence Report, the distribution of client ages shows a strong constituent from the Baby Boomer generation, also with an average age of 58.
What is perhaps more interesting is how this demographic of advised individuals has changed over time. The advice industry has undergone several fairly fundamental changes in the past five years – including the introduction of the RDR in 2012 and 'Pensions Freedoms' changes in 2015.
Comparing the ages of clients advised between 2011 and 2015 highlights a growing trend towards advisers servicing an increasingly aging client bank.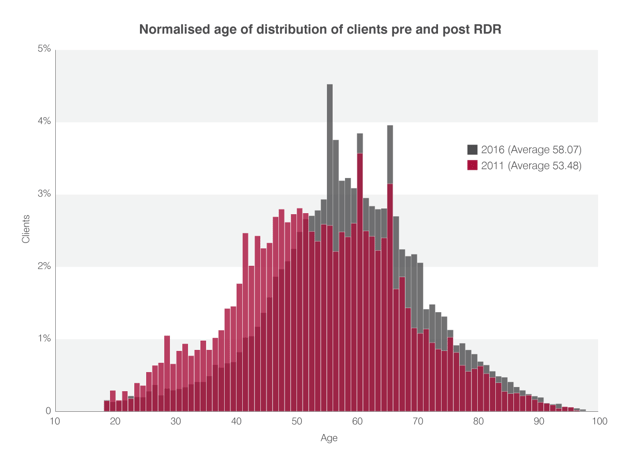 The average age of clients seen in 2011 was 53 years old, whilst by 2016 it was over 58.
Along with 2016's clients being older, they are also wealthier. We are seeing the advice gap, with fewer younger, less wealthy individuals receiving advice. In 2011, the median investment wealth for a client under 45 was approximately £30,000. In 2016, the median wealth increased to over £41,000.
Advisory firms looking to the future will need to address this imbalance in their client books. If successfully harnessed, there surely are significant opportunities from advising those locked out from the traditional advice services.
At Dynamic Planner we believe that digitally supported advice tools can provide advice firms with robust, suitable advice processes which can be integrated into their business to drive the changes needed to harness the opportunities.
When engaging with a younger demographic, the nature of your service needs to be considered. Wealthier clients with younger families and hectic lives are pressed for time. Whilst they need and value your skills, support and direction, they may expect digital services to make the most of this time with you.
That's why we've worked hard to bring to market AccessAdvice, a white labelled online ISA advice service. Firms can provide suitable investment advice to clients in a fraction of the time and cost associated with a typical investment advice process.
The service uses technology to empower advisers to provide a slicker service, automating elements of the advice process, but leaving the human skills to the adviser. The younger clients pre-RDR sought financial advice from advisers; they valued and benefitted from the input their advisers gave them. The people and the need have not gone away.
By adopting technology, advisers can re-engage with the younger, less wealthy demographic without compromising their ability to continue to do what they do best. We envisage a world where the average age of customer will decline, the advice gap will narrow, and financial advisers up and down the country will be using digitally supported advice to make this happen.
Josh Knight - Product Manager