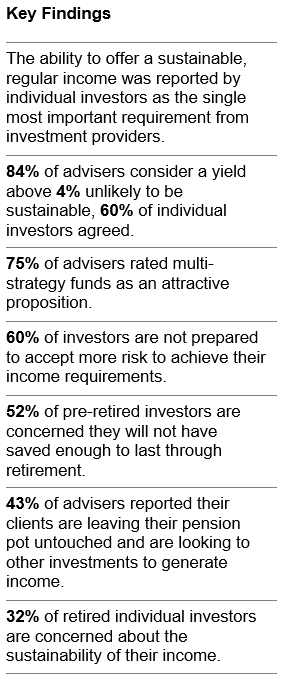 Aviva Investors - December 2015
Aviva Investors' survey of investors and advisers (comprising independent financial advisers and wealth managers) investigates the income needs of investors and the way in which advisers are responding to them. It reveals that while advisers are passionate about 'doing right' by their clients, the job of advising clients on saving enough to last a lifetime is no less challenging. As one adviser put it:
"The pension freedoms have shone a spotlight on the value of staying invested to, and through, retirement and yet how much money is needed and how long it needs to last remain questions that are difficult to answer and advise upon."
Sustainable income dilemma
Before the global financial crisis of 2008, achieving a five per cent income target was not unrealistic. But Aviva Investors' research shows both advisers and investors believe that this is no longer an obtainable level without jeopardising capital.
Multi-strategy income solutions
The research arrives at a time when IFAs and wealth managers are finding it difficult to ensure their clients have enough income for retirement. According to the report, 84 per cent of advisers believe an income of over four per cent is not sustainable. 60 per cent of clients agree with them.
Retirement income solutions able to generate monthly income equivalent to an annual rate of four per cent over the base rate were deemed attractive by seven in ten investors. Indeed, the ability to offer sustainable, regular income was the single most important requirement investors wanted from investment providers.
Multi-asset and multi-strategy funds were considered as offering the best potential for sustainable income by 51 per cent and 46 per cent of advisers respectively. While a relatively recent concept, 75 per cent of advisers view multi-strategy as an attractive proposition.
Setting realistic expectations
When asked about advising on income solutions for clients, two-thirds of advisers saw managing client income expectations as the key challenge. Indeed, it is seen as a bigger issue than compliance administration (60 per cent of adviser respondents) and regulation (48 per cent).
One of the main challenges for advisers is to demonstrate the relationship between risk and return, and how it can affect level of income. While two-fifths of their clients' attitudes to risk and return have not changed significantly in recent years, 41 per cent believe they are challenged to deliver the required income levels for clients who do not want to accept the corresponding level of risk. Just 16 per cent of advisers believe that clients are prepared to accept more risk in order to achieve their income requirements.
Flexibility is key
78 per cent of advisers said their clients are increasingly looking for more flexibility as to where they invest their money and how they access it. This trend is likely to further increase demand for advice.
The research shows that for 'high-net-worth' clients (those with investible assets of over £150,000) advisers want solutions that can fit readily into a wider portfolio to meet a specific outcome. For 'mass-affluent' clients (those with between £50,000 and £150,000 of investible assets) advisers are frequently looking to introduce more flexible draw-down options, while aiming to preserve the value of their clients' capital and advising on the implications of draw-downs on future income potential.
Conclusion
Multi-asset and multi- strategy funds were widely acknowledged as offering strong potential for sustainable income. Furthermore, both were viewed as providing investors with the best prospect for sustainable income regardless of the investment climate.
The research confirms that the challenging market environment and the changing investment landscape require a new level of flexibility and a willingness by investors, advisers and providers to consider new income solutions.
To read the full research report visit: https://uk.avivainvestors.com/gb/en/adviser/investing-with-us/featured-funds/aims/target-income/research-report.html?utm_source=Distribution_Technology&utm_medium=DT_WEBNEWS&utm_campaign=Distribution_Technology
About the Aviva Investors Multi-Strategy Income Fund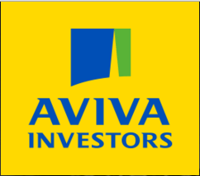 The Aviva Investors Multi-Strategy (AIMS) Target Income Fund could be the answer to your clients' income conundrum. It is designed to deliver:
Sustainable income: aiming to deliver an annual income of 4% above the Bank of England base rate, before corporation tax, in all market conditions
Consistent, regular income: paying income on a monthly basis
Capital preservation: seeking to generate sufficient growth to preserve capital
Lower volatility: aiming for less than half the volatility of global equities over any three-year period
We aim to achieve these outcomes; however, the value of an investment and any income from it can go down as well as up and outcomes are not guaranteed. Investors may get back less than originally invested.
To learn more about the AIMS Target Return Fund visit:
https://uk.avivainvestors.com/gb/en/adviser/investing-with-us/featured-funds/aims/target-income.html?utm_source=Distribution_Technology&utm_medium=DT_WEBNEWS&utm_campaign=Distribution_Technology
---
About the research
The research was undertaken in June and July 2015 and comprised of interviews and focus groups among IFAs, chartered financial planners and discretionary fund managers, an online survey of a further 200 IFAs, and an online survey of 500 individual investors. Intermediaries were selected on the basis that they have clients holding investable assets ranging from £50,000 to in excess of £1 million. Investors were selected on the basis that they have any of the following: pensions, cash ISAs, stocks and shares ISAs, or other investments.
For investment professionals only. Not to be distributed to or relied on by retail clients.

Past performance is not a guide to the future. The value of an investment and any income from it can go down as well as up and outcomes are not guaranteed. Investors may receive less than the original amount invested.

Except where stated as otherwise, the source of all information is Aviva Investors. Any opinions expressed are those of Aviva Investors as at 3 December 2015. They should not be viewed as indicating any guarantee of return from an investment managed by Aviva Investors nor as advice of any nature.

The fund's income target is based on the daily value of the fund and is measured from 1 April to 31 March each year. Corporation tax (currently 20%) is payable on some of the fund's income. As a result, the income received by investors may be up to 20% less than that generated by the fund. Although corporation tax paid by the fund cannot be claimed back by investors, distributions from the fund will carry a tax credit which may reduce their overall tax liability.

The Aviva Investors Multi-Strategy Target Income Fund is a sub-fund of the Aviva Investors Funds ICVC. For further information please read the latest Key Investor Information Document and Supplementary Information Document. Copies of these documents and the Prospectus are available in English free of charge on request or on our website.

Issued by Aviva Investors UK Fund Services Limited, the Authorised Fund Manager. Registered in England No. 1973412. Authorised and regulated by the Financial Conduct Authority. Firm Reference No. 119310. Registered address: No 1. Poultry, London EC2R 8EJ. An Aviva company. www.avivainvestors.com
CI063616 12/2015